Double Phase Thyristor Power Controllers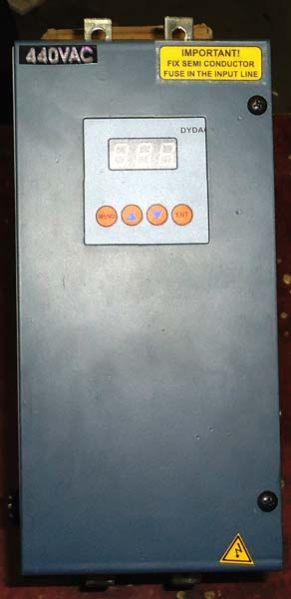 Business Type
Manufacturer, Exporter, Supplier, Retailer, Wholesaler
Control Voltage
0-5v, 0-20ma, 4-20ma
Type
Automatic
Power
100 To 240 Vac
Click to view more
Preferred Buyer From
| | |
| --- | --- |
| Location | Anywhere in India |
Product Details
Application
For Accurate Heater Current Control
epetitive peak off state voltage
1600v
We are engaged in manufacturing, exporting & supplying of Double Phase Thyristor Power Controllers from Delhi, India. Our Thyristor Power Controllers is known for their durability, power consumption, and smooth operation. Buyers can rely on us for delivering small or bulk orders of Double Phase Thyristor Power Controllers within the postulated time.
Features :
Soft start – bake out feature prevents moisture at start up
Current Limit , Phase Loss Trip, Over temperature Trip
Microprocessor Digital Programmable Thyristor Power Controller with Percentage Display.
Program : Setting of Current Limit, Soft start etc by front keys

Dydac Controls Thyristor SCR Power Controllers | A sample of some typical applications :
Plastic Extruders , Plastic Injection Moulding machines
Thermoforming, textiles, industrial furnaces and ovens, extruders, kilns, chemical process heating, fast water heat.
Paper and pulp drying, packaging machines, pharmaceutical processes, infrared ovens and dryers.
High-temperature ovens and furnaces, kilns, glass, ceramics & high-temperature alloys.
Large tank heating and mechanical relay replacement.
High-speed paper and ink dryers, high temperature IR heating, high temperature materials processing.
Primary of transformer-coupled loads.
Phase angle proportional control. No temperature or power cycling
I2T Rectifier fuses standard
Isolated SCR's
Integrated thermal/mechanical design saves panel space
Voltage protection - MOV capacitance
10 to 400 Ampere current ratings. Other Ratings Over 400 Amps Possible.
Easy to install, test, service
The Dydac Thyristor Power Controller is a heavy duty, fully Digital two phase power control unit for controlling the voltage applied to loads such as heating elements, thus, allowing temperature control while eliminating contactor switching and over/under heating. The first in a series of Digital ( SCR ) Power Controllers incorporating protection functions.

Built in switching methods are :
Phase Control Firing
Zero Crossing Firing

Advantages at a glance :
Fully digital Thyristor
Analog Thyristor
Phase Control and Zero Crossing
Current: 15 – 300 A (consult us when higher ratings are needed)
Voltage: 230- 500 V 50/60Hz
Cooling Method: Natural or Forced air
Ambient. Temp: 0 - 50°C
Continuous Duty
Two controlled phases
C.T.'s
Input, 4-20mA or 0-20mA, 0-10VDC
Digital display
Control Input: Analog (4-20mA/0-20mA/1-5V/0-5V)
Indicating of analog signal.
Automatic Output-limit cognition of external volume or internal limit setting.
Various alarm mode(over current, line failed, over temperature, load unbalance)
Fault alarm output / Run output
Programmable soft start.
True RMS current display
Auto/Manual mode operation is possible.
Over current trip
Output Current Limit Function
Built-in watch timer
Heat-sink temperature
Load unbalanced level is programmable
Compact size

LEDs :
Over Current
Over Temperature
Alarm
Trip

Protection functions :
Under & Over current
Shorted SCR
Heat sink over temperature Trip & Alarm
Internal failure
The SCR control can deliver electrical power to heaters in several ways: phase angle fired, zero voltage switched and on/off control.
Double Phase:
Watts÷ Volts= Amps - Example: 18,000W ÷ 440V = 40.9 A
Amps X Volts= Watts - Example: 40.9Ax 480V = 18,000W
Amps X Volts X 1.73 = Watts - Example: 60A x 480V x 1.73 = 49,824W, Example: 18,000W ÷ 240V = 75A
Specification :
Ratings : Double Phase – 25 , 34, 59, 70, 90, 150, 200 , 250, 300 Amperes
Range : 15 A - 400 A , 220-1200V
Connection types : Double Phase
Power Calculation : When selecting the correct sized SCR power controller, rate the SCR for at least 110% of the heater load. Heaters and power lines have tolerances that can swing on any given day or location.
Looking for "
Double Phase Thyristor Power Controllers

" ?